Jenny Weber
---
Interim Executive Director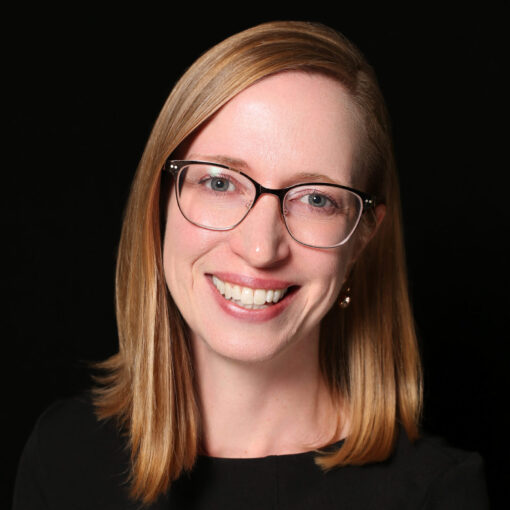 Jenny Weber is our Vice President and Chief Development Officer. Jenny is responsible for general fund raising, grants, special events and donor stewardship. Jenny has over ten years of experience and has spent most of her career in philanthropy focused on education, with a brief detour to the business world for the sake of being well-rounded.
Being raised by social worker parents in St. Louis city and county, she had an early orientation to equity and social justice which led her to College Bound in 2016. Creating experiences to connect people and organizations with this mission alongside a fantastic team is a great way to spend the workday.
Jenny earned a Bachelor of Arts in Sociology from Grinnell College, with a concentration in Gender & Women's Studies.
---
Why do you do this work?
Educational outcomes are determined by children's ZIP codes, and that foundational injustice is the cause of lifelong and generational inequity. In St. Louis, it happens mostly along racial lines and holds entire communities in patterns that lead to poverty, violence, and drastically shortened lifespans. This holds everyone in our community back, whether we see it or not, and it shouldn't be acceptable to anyone. College Bound empowers individual students to achieve their dreams despite significant and unfair odds. Getting to know them and see their stories unfold is a privilege I'm honored to share with College Bound's supporter through my role leading fundraising.
What is one piece of advice you would have for a CB student entering college?
Go to your professors' office hours, especially if you're struggling, but even if you're not! Building relationships with potential mentors can lead to a lot of opportunities (summer research, independent study, letters of recommendation, and more).
How did you overcome your biggest challenge in college?
As an introvert, it was hard for me to put myself out there when I first got to campus and knew only two people. I did force myself to go to various organizations' meetings and ended up finding lifelong friends as a result, but it took time, phone calls with my mom, and a lot of psyching myself up.